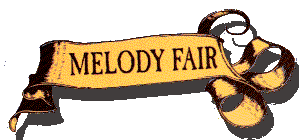 Songs Of The Bee Gees By ...
Up to your patellas in "tribute albums" you never bother to play? What you lack, my friend, is one devoted to the luscious waxings of a band on Englishmen who cut their musical teeth in Australia, became stars back in England, then pushed the chips out onto the table and broke the bank in the USA. You've got it in one, Sherlock: the Bee Gees. It would be difficult to pay extended homage to a band that had only one good song. Riveting as it may be, twenty versions of Steam's Na Na Hey Hey Kiss Him Goodbye might just give you psoriasis of the brain. Fortunately the Brothers Gibb had scads of nifty numbers just aching for the diversity of interpretation by the cornucopia of talent assembled here. So, let's round up the suspects, "mirandize" em and state the charges:
Click the

icon for full song in Real Audio


1. Melody Fair THE JIGSAW SEEN
Spindly yet dulcet-tonsiled crooner Dennis "Ebenezer" Davison and his sidekick guitarist Jonathan Lea, have kept the cassettes for this project wadded in a moldy burlap artichoke sack for years. No false modesty here. Since they call the shots, their song goes first. Quite a pip it is too - real lump in the throat stuff and nothing to do with goiter.
2. Craise Finton Kirk Royal Academy of Arts YOUNG FRESH FELLOWS
Kinks devote Scott McCaughy gives this tune an ultra-violent "ray" vocal workout, serving as a spunky companion piece to Mr. Anthony's Last from recent Fellows album Low Beat Time - both tracks marinated in the Zombies' Odessey and Oracle, with just a dash of Cheap Trick from smokin' Kurt Bloch.
3. Indian Gin And Whisky Dry DRAMARAMA
Led by leather-lunged vocalist John Easdale and bassist/knobsman Chris Carter, LA's hardest rockin' popsters float like a butterfly for twelve bars, and then they're all over you like a phalanx of killer bees. Non-pareil ex-Blondie tub-thimper Clem Burke sends guitarists Peter Wood and Mark Englert to neutral corners, from which they lob morter blasts at one another.
4. The First Mistake I Made PHIL SEYMORE
This former linchpin of the Dwight Twilly Band, instantly summons up the karma of Imagine-era John Lennon in a goose-pimply, Spectorian picket-fence of sound. Seymore died of lymphoma on August 17, 1993, leaving behind his work with Twilley, two brilliant solo albums and collaborations with Del Shannon, Gene Clark, Moon Martin, 20/20, and the Textones.
5. Exit Stage Right THE APPLESEEDS
John Swerdans's weed-wacker pipes project halfway into the next block, as fellow Berkeley resident and former Limey punk icon, Mr. Al Ick on Sears Silvertone and the Piltdown drumming of onetime Mummy, Russel Quan, keep the garden clear of varmints.
6. Kilburn Towers THE IDLE WILDS
No accents attempted, but this Pennsylvania combo comes closest to cloning that fey Gibb vocal mix, walking the tightrope between the sublime and the gooey. You can almost hear the collective sighs of legions of fourteen year old girls, clutching dog-eared copies of Tiger Beat to their breasts.
7. Lemons Never Forget KRISTIAN HOFFMAN
Hoffman and producer Earle Mankey (Sparks, Concrete Blonde) pull every production stroke known to man - harpsichords, phased vocals, oboes, Vivaldi string licks (courtesy of William Glenn-Cooper) and the Mormon Pumpernickel Choir, they're all there. This former Mump and current eggBERT solo artist finally manages to churn the lemons into yellow matter custard and feed it to his walrus. Goo goo ga-joob.
8. My World INDIAN BINGO
Mike Boul, Indian Bingo's in-your-face vocalist, has virtually learned how to sing in the public eye, as a flip through the band's three albums and their contribution to Frank Sinatra tribute will verify. Phil Carney and Bill Boyle, Bingo's guitarists, are kept under wraps by SF producer Tom Mallon, preferring the realm of the Walker Brothers.
9. The Earnest of Being George SPINDLE
At first thought to be a Jigsaw Seen tribute band, poking and elbow into protruding ribcage of Mr. Davison. But no. Singer Carolynne Edwards, formerly of LA's 3D Picnic, forces da bruddahs into cement overshoes, takes them "Down By The River" and pushes them in.
Jim Ellison of this classy Chicago power-pop trio executes that melodramatic Gibb 'goat quiver' with surgical skill, thereby earning the right to attempt How Can You Mend A Broken Heart? for the second volume in this series, due sometime before the millennium (And not nearly as funny a line as it was when first written).
11. Turn of the Century THE FASTBACKS
A pretty restrained effort by these usually over-the-top powerpunks. Once Kim Warnick, Lulu Gargiulo and Kurt Bloch shove the crate into the passing lane, however, there's no mistaking that these Seattle semi- legends run everything else off the road. Eat your heart out, Shonen Knife.
12. You Know It's For You CHRIS VON SNEIDERN
Hot on the heels of Sight & Sound, his sprightly debut album, CVS emerges blinking from his San Francisco basement home studio, Ordophon-upon-Avon, with yet another pop gem under his arm, this one glittering with Sgt. Pepper quotes, Marc Capelle's Wurlitzer piano and a whistling Brian Ferry "wimoweh" outtro.
13. I Can't See Nobody THE MOVIE STARS
Unfortunately for these SF faves, the Byzantine pace of this tribute - which made Dickens' Bleak House seem as snappy as My Story by Amy Fisher in comparison - saw this project outlive their band. Jill Olsen now fronts the Norseman, while Brad Williams has formed Los Pinkys, doing "white guys Norteno".
14. Mrs. Gillespie's Refrigerator SNEETCHES, UK
A rakish runthrough by the Green Card half of SF's Sneetches -- suave skinman Danny Swan on the multi- tracked vocals and Alec "the Impaler" Palao on everything else. UK refers to the lads' current employment by the University of Kentucky to establish the Sid Griffin Library.
15. Whisper Whisper ACTION FIGURES
Josh Rowley's infectious drum track, mixed way up front, acts like a pulling guard, and Scott Miller-ish scatback/vocalist Chris Piller sets up his blocker perfectly, finds the hole, then runs to daylight. Big Wonderful, the debut album by these Washington D.C. popaholics, is right here on eggBERT, the happenin' label for the 90's.
16. I'm Not Wearing Makeup BERI RHOADES
This track arrived at Davison Manor at 4:00 AM in a Brinks truck driven by a six foot magenta koala. Beri has three famous uncles. The one who shares her given name (but spelled differently) is actually singing background vocals on this track. A free RSO audition and a sealed copy of Sgt. Pepper: The Movie to anyone clever enough to unmask Ms. Rhoades.
17. The Greatest Man In The World NICK CELESTE
Resembling a Todd Rundgren cross-pollination with Spandau Ballet, New York's Nick Celeste plays everything on this raspberry smoothie. Once the frontman for Gotham's In Color, he's since worked with Richard Barone, Aimee Mann and Jules Shear.
18. How Deep Is Your Love? BABY LEMONADE
Ah, somebody had the balls to pull on those crushed velvet loon pants and stack heels and head down to the disco. Arthur Lee's current backing band has strained out the seeds here and added some college/indie artificial sweetener to make the brew more palatable to today's teens.
19. If I Only Had My Mind On Something Else LET'S TALK ABOUT GIRLS
Barry Holdship's vocal chords shimmy here like a bowl of tapioca, sounding at times like Brian Wilson before psychoanalysis. And Holdship's had the uncommon good sense to name his LA combo after a track by the beatific Chocolate Watchband.
20. Massachusetts INSECT SURFERS
This sand-in-your-toes surf instrumental version instantly brings to mind those seventy five odd cover albums by the Ventures. Dave Arnson's reverb-drenched Fender 'caster whisks you away to the 50th state, almost forcing you to say, "Book 'em Danno."
21. Horizontal MICHAEL NOLD
This sweeping treatment wraps things up in grand style, returning the controls of the stereo to you. Nold is ably abetted here by LA cult heavy-hitters, Peter Holsapple, Carla Olson, Susan Cowsill, Dave Provost and Duane Jarvis.
Jus Cost, Co-editor, Cream Puff War
Compilation Produced By Dennis Davison & Jonathan Lea
Associate Producer: Greg Dwinnell
Production Assistance Saul Davis & Dave Hall
Mastered By Bill Lightner at Kdisc
CD Art Direction & Design By Jim "Eno" Roe for popSMEAR
Who is responsible for this stuff anyway?
All contents are Copyright © 1995 - 2009 by eggBERT Records.