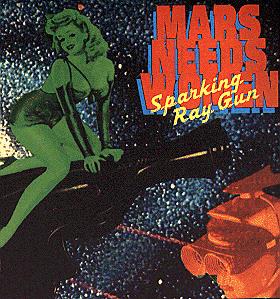 SPANK
NOTHING
JOHNNY
SUPERHERO
NO SHOW
PROBLEM CHILD
SMILE AWAY
GIMME WHAT I NEED
BIG AMERICAN CARS
LIAR
T.V. TOY
BAD HAIR DAY
In a galaxy somewhere between noise and melody exist the ultrasonic sounds of MARS NEEDS WOMEN. From the shores of Jersey (remember "War Of The Worlds"!) MARS NEEDS WOMEN unleash their argo- pop on the unsuspecting earth with the release of their first album "Sparking Ray Gun".

The message from MARS is fast and hard - plenty of power, plenty of guitars and plenty of hooks. Shards of Bowie , New York Dolls, The Clash and Ramones careen like exploding stars. MARS fire retrorockets with a cover of the Damned's "Problem Child" and a blatant nod to Cheap Trick with "No Show".

They've shared stages with a who's who of alternative artists, having done stints with Collective Soul, Sponge L7, Babes In Toyland, Goo Goo Dolls, Swervedriver, D-Generation, Monster Magnet, and Everclear to name but a few. Aquarian magazine picked them as best group of 1994, and in a review of this year's Jersey music scene, Rolling Stone Magazine wrote "Bruce no longer rules the scene as proven by bands like MARS NEEDS WOMEN...."

With "Sparking Ray Gun" MARS NEEDS WOMEN carve out a crater in planet of lesser sound- alikes. Coming to conquer your solar system soon!
Made By Allen Douches, Steve Watson and MARS
Engineered By Allen and Steve
Mastered By John Matousek at Masterworks, Hollywood, CA.
Recorded at Noise NJ and West West Side Music
Executive Producers Greg Dwinnell and Brian Nelson
Layout /Design By Jim "Eno" Roe forpopSMEAR
Management By Brian Nelson Entertainment
Artwork by MD
For More information:
MarsNeedsWoman
P.O Box 3008
Long Branch, NJ 07740
Who is responsible for this stuff anyway?
All contents are Copyright © 1995 - 2009 by eggBERT Records.