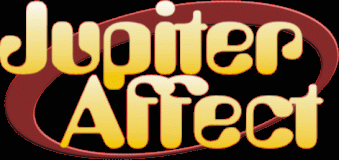 Instructions for the two ways of becoming Alice

Click the icon for full song in Real Audio



White Knuckle Sound
Loved One's Lies
Goodbye Arthur (Le Morte D' Arthur)
Inside (Isis Rising)
I See the Sun
Michael and Mary
Druscilla I Dig Your Scene

The Chemical Wedding of Christian Rosencreutz
Together
Bring Back the Wonderful Girl
Good Time
Ice Cream Lolly
We Don't Believe You
Heavenly melodies and heavy guitars…that's the credo of…"Instructions for the Two Ways of Becoming Alice" ..And with their first full length album JUPITER AFFECT put their money where their mouth is.
Encompassing the Lilt of Liverpool, the Psychedelia Of Haight, and the Roar of the Motor City, the music revolution of the Next Century starts here. The makeup of Jupiter Affect is a veritable'Who's Who'of the LA Underground. Front man and Bassist MICHAEL QUERCIO was the mastermind behind THE THREE O'CLOCK, the finest of LA's 'Paisley Underground' (A term Quercio actually coined!) Guitar virtuoso JASON SHAPIRO used to spray his fanciful notes with the influential CELEBRITY SKIN, while the bond's aristocratic drummer CHRISTOPHER CHARLES VON BRUCKNER manned the skins for PERMANENT GREEN LIGHT. Anchor and purveyor of the power chord DAN EPSTEIN formally lead the FANCY TROLLS (As well as being one of LA's most respected rock critics).
"Instructions for the two ways of becoming Alice" is the first (and maybe only!) rock concept album of the new millennium. Life, death, and the affects/effects of alchemy may be what they're singing about but the Jupiter Affect's real mission is to reacquaint the listening public with the joys of sweet melodies and memorable choruses, while driving it all home with plenty of pure rock power.
MICHAEL QUERCIO (Vocals, Bass) Former Leader of Salvation Army and Three O'Clock.
CHRISTOPHER CHARLES von BRÜCKNER, the band's aristocratic drummer, also paid his dues in Permanent Green Light.
JASON SHAPIRO (guitar, vocals), first caught the public eye as part of L.A.'s legendary Celebrity Skin.
DAN EPSTEIN (guitar, vocals) Former member of Lava Sutra.
The making of Instructions for theTwo Ways of Becoming Alice
Here's what THEY are saying about Instructions for theTwo Ways of Becoming Alice....
Home<> Catalog <>Sounds<> Reviews<> Feedback <>Order
qwert@eggbert.com
All contents are Copyright © 1995 - 2009 by eggBERT Records.