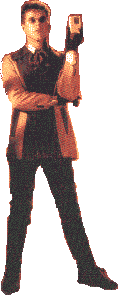 Already critics are heaping on the praise: Yeah Yeah Yeah calls it "A thrilling sonic stir-fry of the BeachBoys, Glam Rock, Roy Wood and Mad Cabaret." Entertainment Today boasts "An exciting pop masterpiece.", and the L.A. New Times states simply "Genius!".

Kristian Hoffman's new solo album, "Eathquake Weather", is an adventure in 60"s flavored baroque psychedelia with snatches of glitter rock impudence and the occasional moment of acoustic introspection, all framed by Kristian's whimsical cynicism.

Famous for his NY music scene collaborations and connections during that city's underground rock heyday, Kristian Hoffman has ruled both coasts as leader of New Wave legends Mumps (With Lance "An American Family" Loud) and the ultra-groovy Swinging Madisons. From keyboards, guitars and drums, to writing, singing and arranging, his name has graced records from such diverse luminaries as Lydia Lunch, Klaus Nomi, Ann Magnuson, The New York Dolls, The Contortions, James White and the Blacks, El Vez and Congo Norvell. But now with the release of his second solo album "Earthquake Weather", Kristian's written his own ticket to infamy.

This time around it is Kristian who calls upon his friends to lend a hand, landing guest appearances from Ann Magnuson, Lance Loud, Poison Ivy Rorschach (Cramps), Jonathan Lea (The Jigsaw Seen), Ethan James (Blue Cheer), William Tutton (Geraldine Fibbers) and Michael Quercio (The Three O'clock). Back again is William Cooper (Mazzy Star/Rain Parade) adding evocative layer of strings. And overseeing the whole affair is the pop guru himself Earle Mankey, controlling the board and adding his patented hook-happy gloss, not to mention some searing guitar work.